VIDEO: Liberal MP Judy Sgro Says Black Canadians "Love" Trudeau For Wanting "To Have A Black Face"
If there wasn't a video, we wouldn't be believe it.
But there is a video.
And it shows Liberal MP Judy Sgro claiming that Black Canadians "love" Justin Trudeau for wearing blackface.
"lmao Judy Sgro (L – Humber River-Black Creek) says her Black constituents love Justin Trudeau even more because he took pride in the effort to have a black face I am finishedddddd"
Sgro said "Those in the black community have told me how much more love they have for the prime minister, that he wanted to have a black face, that he took great pride in that, too …"

It's stunning how desperate the Liberals are to justify Trudeau's wearing of blackface.
Even more amazingly, Liberals are saying Trudeau did nothing wrong, even as Trudeau repeatedly says it was wrong.
That's cognitive dissonance at it's finest…
Of course, Sgro's incredibly stupid comments sparked a backlash, and she was forced to apologize:
"Liberal Candidate Judy Sgro apologizes for saying the black community has "more love" for Justin Trudeau because he "wanted to have a blackface" and "took great pride in that." She now says that was "insensitive." Full statement"


Liberal Candidate Judy Sgro apologizes for saying the black community has "more love" for Justin Trudeau because he "wanted to have a blackface" and "took great pride in that." She now says that was "insensitive." Full statement #cdnpoli #elxn43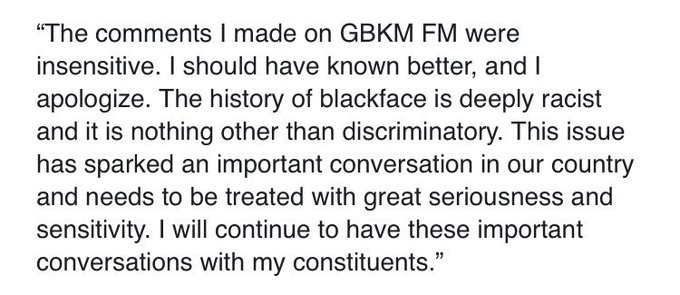 7811:04 AM – Oct 9, 2019Twitter Ads info and privacy140 people are talking about this
As I said on Twitter, I once thought that even the Liberals would never go this far in their attempt to justify Trudeau's blackface debacle. Yet, here we are:
"At one point, I considered tweeting that the Liberals would try claiming Trudeau's blackface was meant to be an act of 'support' and 'respectful imitation' of black Canadians.

Then I thought, "no way, they'll never go that far."

Yet, here we are."